"The Journey 50 States One True Story JESUS!" continues and Lord willing into Canada Summer of 2015.  Recently I spent 10 weeks in Virginia preparing for the next leg of the journey which should take me to September 2015.  Originally I planned to be home for 4-6 weeks, but there were a few delays and setbacks but every work was brought to completion "Praise God!"  During this time there were a couple offers and many encouragements for me to stay home and serve.  Most of which were good, reasonable, justifiable and especially appealing to the heart, comfort and ease.
In following the Lord I have found many things which are hard to do: leaving family and friends, being away from my home Church and forgoing the basic comforts and conveniences are some of them.  So there where good reasons for me to stay, to be with those I love and to enjoy the comforts and ease of being settled down.  But at this time I can't afford to settle for ease and comfort because of the dangerous compromise this could lead to.  What I mean is my life is not my own and my highest goal is to honor Him who died on my behalf and rose again.  When I'm in a foreign city each week my dependence is fully on God's provision and my duty to service ever pressed.  Another way to say it is; this keeps me centered in God's will.  God blessed me with this calling four and a half years ago and I cannot look back.  I'm confident that The Lord will lead me with clarity along life's narrow way.  So in weakness and with much fear and trembling God enables me to go that He may show His strength and do His will according to His good pleasure which is in Christ Jesus our Lord!  All Glory to God!  Amen
So last week the first stop on this leg of The Journey was Raleigh, North Carolina.  The first night was a quick reminder of past events where a church says no but the world says yes.  So I spent that night in a Walmart parking lot and slept well.   Monday morning I met with Pastor Bric Bolin of Neuse Baptist Church and was blessed with a place to come and go from.  How about 50 acres outside the camp?  Perfect!  Thank You Lord!  Raleigh maybe the nicest City I have been to, both the people and aesthetically the place is great.
I found the perfect intersection in which I could park the truck and preach at Capital St. and Old Wake Forrest Rd.  This was just off the freeway, with a huge mall and many other attractions.  The corner lot was vacant and the sign read "Available" so I took that literally.  But did I have the courage to mount the sound system, drive up, set up and preach during the evening traffic rush?  Haven't all these people heard the gospel and who did I think I was to come here and preach?  So you may understand that I was having trouble being bold in the faith, so Thursday I called on my friends to pray for me.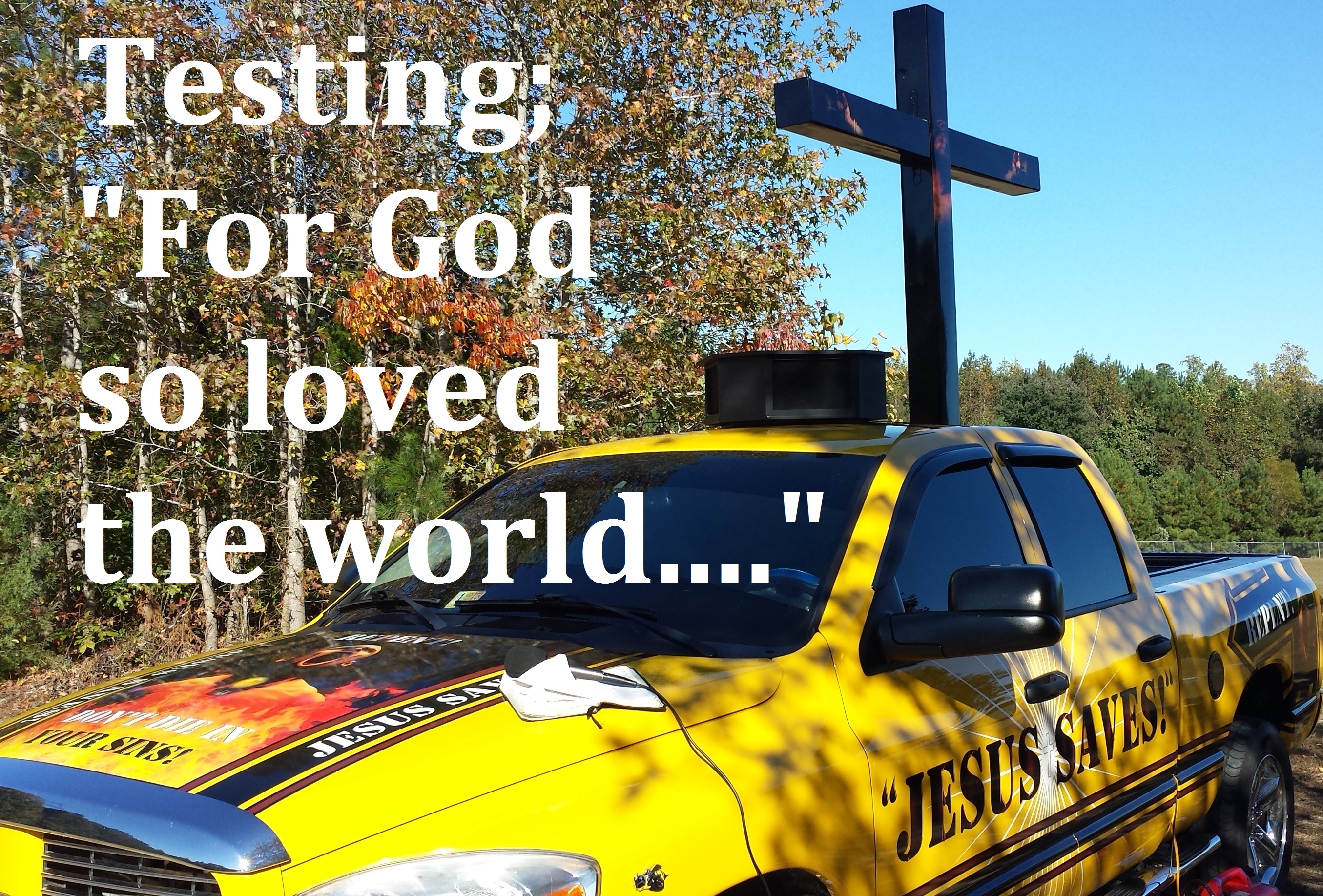 I spent about 3 hours at my retreat getting ready and I left resolved to go, set up and to open my mouth without delay or compromise in anyway.  That's all I could physically and mentally do and The Holy Spirit would have to do the rest.  So in broad daylight and with a military mindset I drove onto the property, backed up to the sidewalk, got out, set up the generator, turned on the sound system, opened my Bible, picked up the microphone and cried; "God help me!"   Then, I started with the usual opening words; "I came out today to preach Jesus Christ and Him crucified for the forgiveness of sins."  Friends that was it, I had my manuscript of the gospel in hand but that was it!  Maybe I should explain "that was it!"  No manuscript necessary:  The Holy Spirit filled my mouth and the glorious gospel was proclaimed time and again until I literally could not utter one more word!  Hallelujah!  Praise God!  Amen.  If this was the end of the story that would be great but it's not.  The same thing happened Friday evening.  Wow, the joy of my salvation and all the events like these are the greatest high, the most joyous and humbling.  There is absolutely nothing of the world, nor the combined total of all that the world offers; that can compare to the Gift of Salvation and the Presence God!!!  Like my Brother Ronnie Cardiel preaches, "You won't want that junk when you have the Most High God!"   To that I give a hearty "Amen".
I finished out the week in fellowship and worshiping at Neuse Baptist Church and am so appreciative for the love that was extended to me.  Raleigh is a place that I would like to come back to if the Lord wills.
Thanks to all my dear brothers and sisters who prayed and continue to encourage me along the narrow way.  Let's continue to lay up treasures in heaven, living our lives in honor of our Great God and Savior Jesus Christ by the Power of The Holy Spirit!!!   Amen.
P.S.  It's a joy to write about God's faithfulness and although He has proved Himself time and again; I need your prayers.  I arrived in Fayetteville, NC and the atmosphere is more resistant.  But greater is He that is in us than he that is in the world.  Amen.
I hope to write you again in about a week.
Agape