Olympia, Washington
Welcome to the State of Washington and its capitol Olympia!
Arriving Monday evening July 22nd, I settled in at Westwood Baptist Church of Tucson. Where I enjoyed a park like setting which was quiet and secure.
Tuesday, I surveyed the area and found the pace to be slow and that there were no big events scheduled to take place.  At first being disappointed and later seeing it as a blessing.  Remember, I was in Virginia the week prior and now it was back to the streets.  Where the message of the Cross arouses the opposition and so it was in Olympia.  But as the railings of men come from every direction the foundation on which I stand "JESUS" is immovable.  Yes!
Without large crowds and being in a small city I realized it was all the more difficult to stand and speak aloud the gospel.  Hence I spent a lot of time in the word desiring to be better prepared for the next stop.
On Saturday as I drove through town I noticed a crowd and venders at Heritage Park.  A few blocks away I parked, loaded up on tracts, grabbed the small amplifier and hurried there.  Surprise and welcome to Washington!  This was the "FIRST LEGAL HEMPFEST IN THE NATION!" with bands, guest speakers and vendors selling all kinds of drug paraphernalia etc.  After taking this in I began handing out gospel tracts and soon needed more.  Meaningful conversations were hard to come by so the hope is that the Holy Spirit will work through the tracts.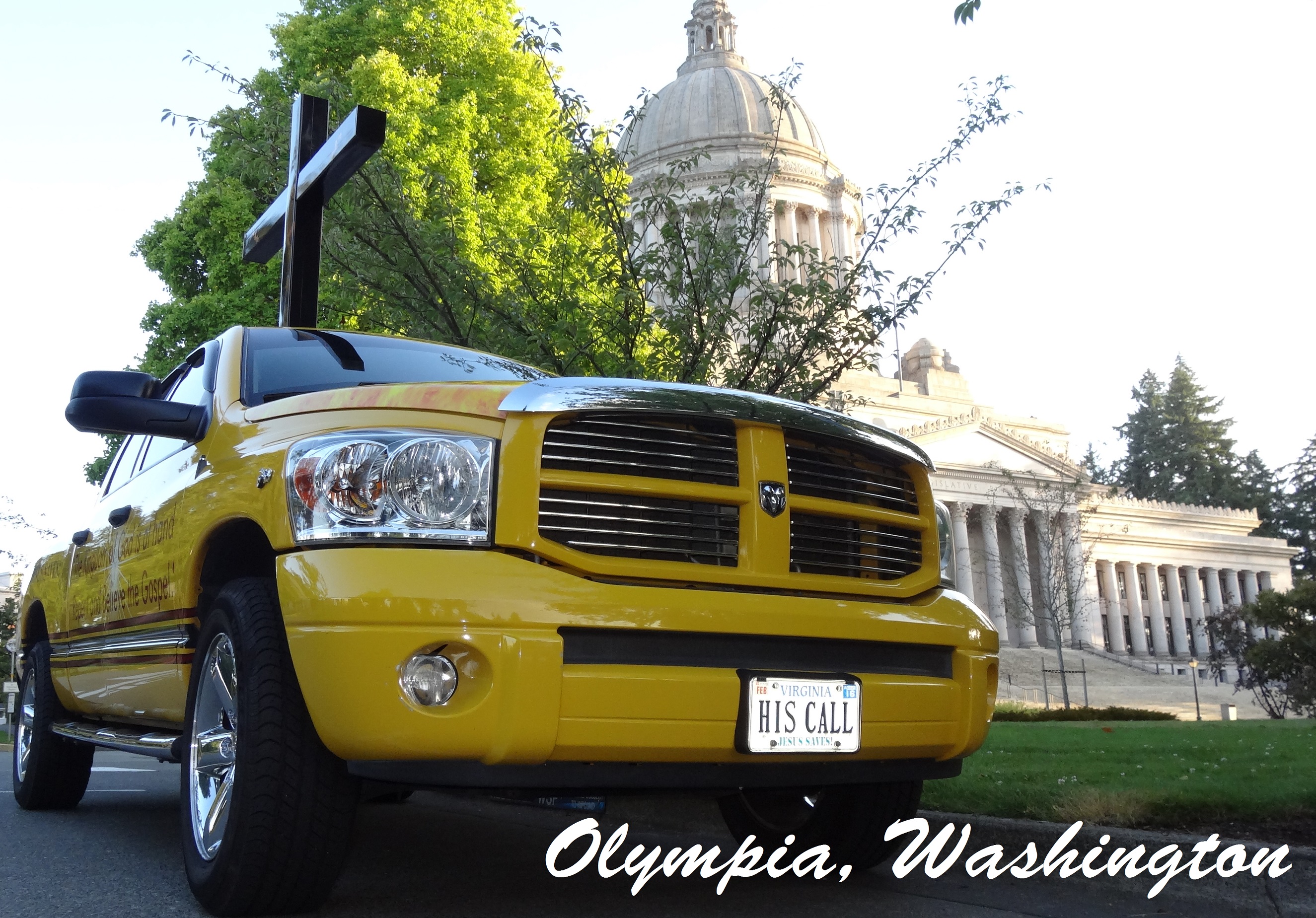 Sunday evening I came across another gathering "Olympia Symphony Orchestra 7th Annual Capitol Concert" on the grounds of the State Capital.  As I waited for the event to end, hoping to herald the gospel, I checked with the capitol police and was given the go ahead but no amplification. When the show ended I walked out in the middle of the crowd, but to my dismay I could not compete with the noise level of so many people talking and the background music still coming from the loud speakers.  With regrets I left and went back to my retreat at Westwood Baptist Church.  Later I walked and talked with the Lord and looked up at the starry host and all my burdens were gone.  Praise God!
Throughout the week in Olympia the Banner of the Lord Jesus Christ and the Cross was lifted up before men and I thank God for the honor.
Thanks, all of you at home and those abroad for the various ways you support me in the Lords work.  May the Love and Grace of our Lord Jesus Christ become all the more apparent that you may know the fullness to which we may obtain even now as we wait for the blessed hope in the age to come. Amen.
Lord willing next week I'll write about the next stop along; The Journey 50 States One True Story JESUS!!!
Agape, David